ROTARACT CLUB OF AGPC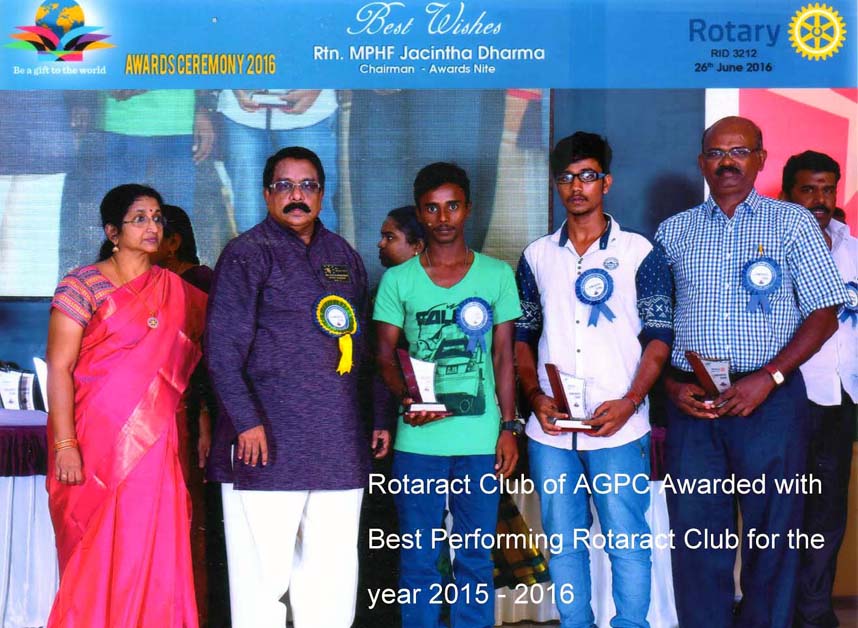 The Rotaract Club of our College was awarded with "One of the Best Performing Rotaract Club" by the Rotary International District – 3212 in the Awards Nite 2016 function held at Ganga Grandeur, Nagercoil on 27.06.2016, Sunday.
Out of 92 Rotaract Clubs in the Rotary District 3212, Ten colleges were selected for this award. The award is based on the annual report submitted by our club. The parent club, Rotary Club of Sivakasi, supported us in all our endeavours.
GIST OF SERVICES RENDERED BY OUR ROTARACTORS
Distribution of flags to the Public on August 15, 2015
Organized Blood Donation Camp on 9th January 2016 in association with YRC
Organized Veterinary camp in association with NSS of AGPC
Served as volunteers in the monthly eye camp conucted by the Sankar Netralaya
Attended /Vocational seminar held at Ja.Bose Kalyana Mandapam, Sivakasi
Served as volunteers in the Shri.A.M.S.G.Vijaya Kumar memorial medical camp held at Arasan Matriculation School, Sivakasi
Served as volunteer in the Arasan Aluminium Industries' Annual Get Together of their workers
Served as volunteers in the free medical camp held at AAI on 26.08.2016
Notable Event
Rotary Club of Sivakasi, the parent club had sponsored Rupees Two Lakhs for the renovation of the bus shelter in the southern side of our Institution.
Congratulations to the Rotaractors!