Arasan Ganesan Polyechnic College, Sivakasi
Training and Placement Cell
A Career Guidance Programme was organized for the III year students by the Placement and Training cell of our College on 20.07.2016, Wednesday at auditorium. Our Principal Shri.M.Nandakumar presided over the meeting. Virudhunagar District Employment Officer Mr.A.Ramanathan was the chief guest. He pointed out that the Diploma Engineers have more scope of placement to be placed than the B.E.Degree holders. He explained about the various fields in which diploma students can be placed. He pointed out that if the students are well prepared, they can easily get the government jobs. He also explained the job opportunities for departments like Civil, Mechanical, EEE, ECE, & CSE.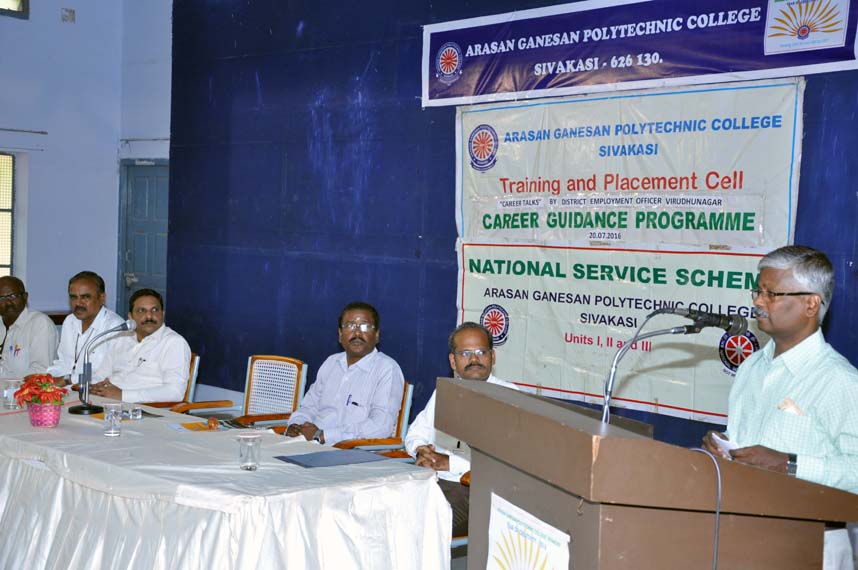 Guest Lecture by Mr.A.Ramanathan,District Employment Officer, Virudhunagar
He pointed out that there are more avenues for diploma holders. Diploma holders were placed at a salary of Rs.45,000/- per month. Above all the chief guest stressed the importance of dress code, soft skills and the knowledge about the company for which the student is appearing. He mentioned that the students should have command over their language. Websites like www.tnvelaivaippu.com, www.ibps.in, www.ncs.gov.in etc., will help the students to update themselves about the job opportunities. "There is no shortage of employment opportunities but there is shortage of skilled workers" remarked the employment officer. Thiru.Ganesan Koodalingam, Junior Employment officer also graced the occasion by his presence.
Earlier Mr.M.Pugazh, Academic Officer, welcomed the gathering. Mr.S.V.Elangovan, Placement Officer proposed vote of thanks.