Arasan Ganesan Polytechnic College, Sivakasi
Junior Jaycees Club & Student Services Cell
A Motivational guest lecture on "Importance of English Communication" organized on 27.06.2016 at 11.00am at DH3 hall for our II and III year students. The resource persons are Mr.Sundar Singh and Mr.Devand, MINFIN Training Centre, Chennai. Mechanical A – 40 Nos., Mechanical B – 40 Nos. and EEE – 40 Nos. in the Ist batch and Printing Technology – 50 Nos., ECE – 15 Nos., Computer – 12 Nos. and Civil – 10 Nos. in the IInd Batch, totally – 207 students participated in this progamme. The Programme was inaugurated by Mr.M.Pugazh, Academic Officer. He delivered the speech about the importance of English Communication in Campus Interview and the need for a change in the mindset of students.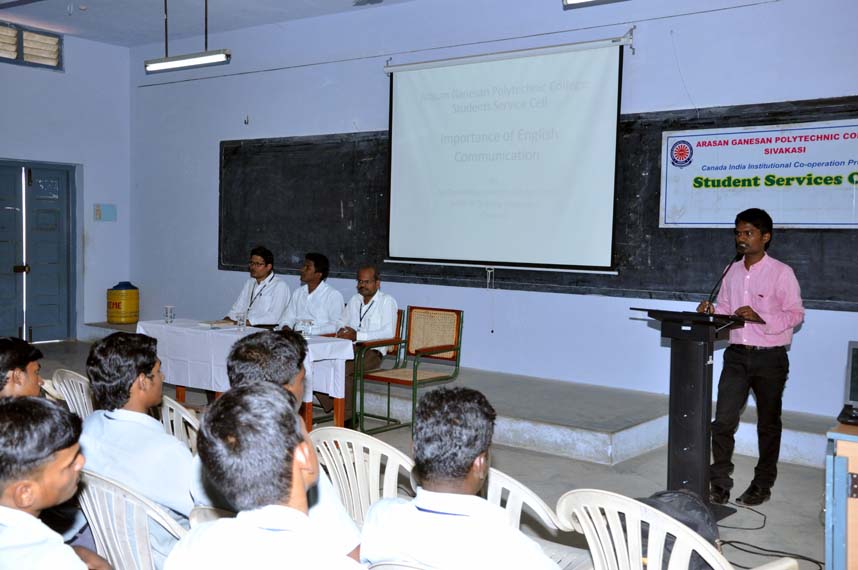 The trainer explained the simple concepts of English, methods of English Grammar, understand of English language and make a simple English sentences. Mr.S.Uthanu Mallayan, Students Service Cell Manager delivered vote of thanks. Finally, students gave feedback about the programme and trainers.
The programme was very useful and informative for our students to understand and learn about the importance of English Communication.