Arasan Ganesan Polytechnic College, Sivakasi
National Service Scheme
On 29.07.2016, Guest Lecture on the topic, "Entrepreneurship Awareness" was conducted for the III year students from 11.00 AM to 1.00 PM at Drawing Hall 3.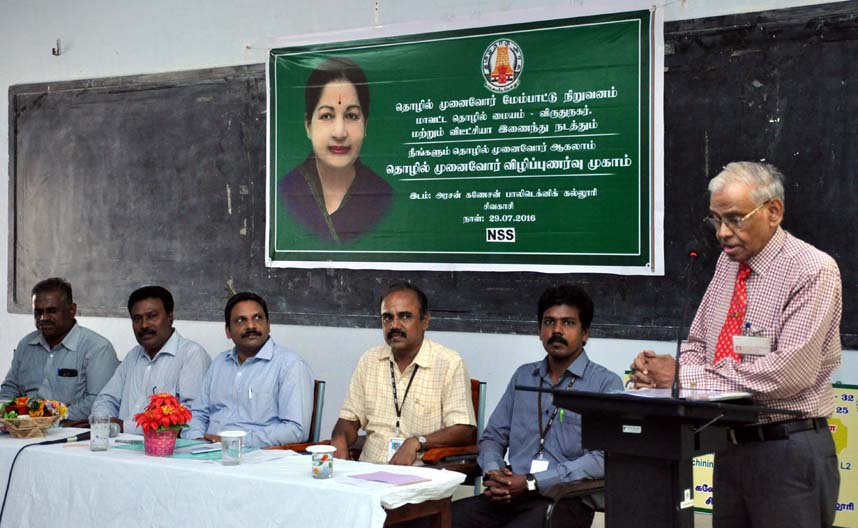 Programme was started with prayer .Mr.T.Kannan, Deputy Director Manager(credit), District Industries Centre (DIC), Virudhunagar welcomed the speakers and students. Thiru.M.Nandakumar, Principal, advised the students to be a Job provider and not a Job seeker. Mr.R.Vasirajan, Assistant Director, KVIC, Madurai insisted the students to dream as an Entrepreneur. He briefly explained the Tiny and small scale production oriented Industries and service oriented Industries. Mr.S.P.G.C. Brindavan, President, Virudhunagar District Tiny and Small Scale Industries Association (VIDITSSIA) Virudhunagar described many histories of successful Entrepreneurs. Observation, Imagination, Innovation, Interest were the qualification for an Entrepreneur. With proper training and stage by stage improvement will definitely help to become a leading Entrepreneur. Mr. A.Siva Annan, District Industries Centre (DIC), Virudhunagar explained the DIC.programmes such as- UYEGP (Unemployed Youth Employment Generation Programme), PMEGP (Prime Minister's Employment Generation Programme), NEEDS (New Entrepreneur cum Enterprise Development Scheme), SIDBI (Small Industries Development Bank of India) and NSIC (National Small Industries Corporation). Persons with Age between 18 to 35, Qualification of 8th standard pass with the capacity to invest about 10% of total project cost will get loan and subsidy under different schemes.
Mr.Nagarajan, Director, VIDITSSIA, Proposed Vote of thanks. The meeting was concluded with National Anthem.