Arasan Ganesan Polytechnic College, Sivakasi
Canada India Institutional Cooperation Project
Students Services Cell
Students Service Cell conducted a guest lecture programme on "Career Opportunities in the competitive world" by on 26-12-2016 at Auditorium for final year students. The resource person is Deputy Commandant JD.Dhayalan, Group 'A' Gazette Officer, Indian Coast Guard, Ford Kochi. Forty Students from each department [Total 250 Nos.] participated in this programme.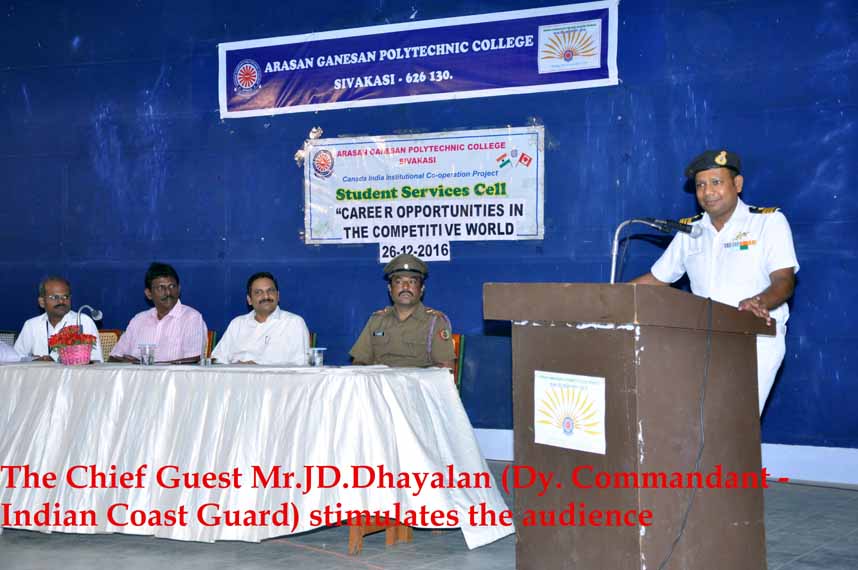 The function started in a grand manner with the welcome address by Thiru.M.Pugazh, Academic Officer and the presidential address by our respected Principal Thiru M. Nandakumar. In his speech, he remembered the services and success stories of about our chief guest and importance of government jobs for students. Then Mr. JD.Dhayalan started his lecture and the orientation of the lecture was unique. He narrated the students about his career in the field of their department. He highlighted the fact that technical students can achieve a lot when compared to other students could not have, even imagined. He boosted the confidence among the students that he started his technical studies as a diploma student.
He explained that since last few years, the authorities divided the batch into subgroups consisting of 30 students in each. Since Airforce seats are fewer than Navy which have in turn fewer seats than Army, the person getting the first rank in that subgroup will have the first preference to select the forces of his/her choice and the place of internship of his /her choice. They divide the number of air force and navy seats in each subgroup equally. In fact he said nowadays in India private companies do not give us as much job security as they gave to our parents and grandparents. In an economy where nothing is certain, having a government job is the best for us because we will never be asked to leave from a government job. He advised the students that If you are a freshly passed out and commissioned officer in the armed forces you will make about Rs.42,000 per month. Additionally the allowances that you will get are flying pay, high altitude allowance, sailing allowance, island allowance, pilotage allowance, diving allowance, submarine allowance, commando allowance, etc. Allowances vary between 6,000 to 16,000 plus DA of 60%.
He explained that if you are an unmarried officer, food is free of cost. Once married the ration used for the preparation are given to the officer at his doorstep free of cost and the facilities like free schooling to children, free medical facilities to dependents, Canteen facilities, Car to senior officers, loan facilities, excellent accommodation where ever you are posted, free air tickets to you and all your family anywhere in India once in a year.
He showed lot of success stories of our Indian Army and Navy through videos and photos. Students asked lot of questions about Indian Army and Navy. He gave very good answers to all the students. The programme was organized by Mr.S.Uthanu Mallayan, Manager, Students Services Cell and Mr.P.Prem kumar, GJO Club in a nice manner.