Arasan Ganesan Polytechnic College, Sivakasi
Orientation Programme for I Year Students (03-07-2017)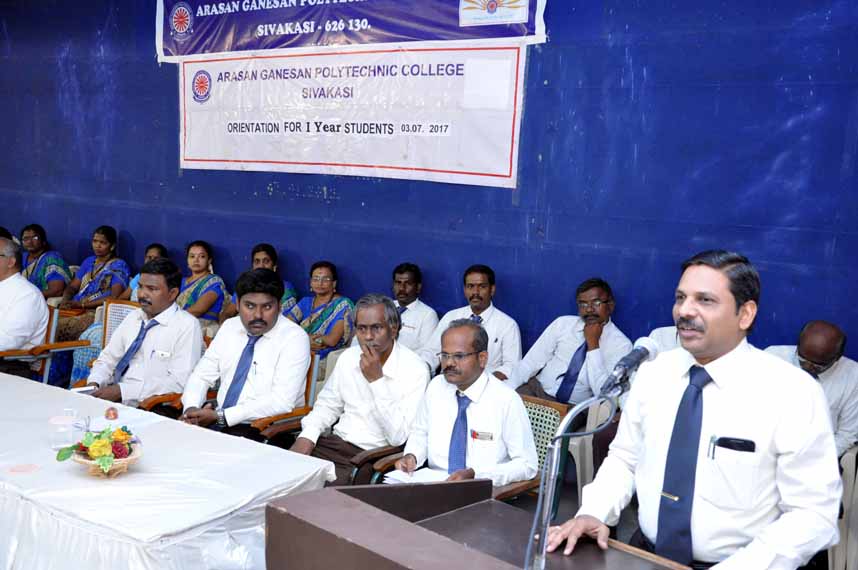 The newly joined I year students along with their parents attended the orientation programme organized at our polytechnic college on 03-07-2017 (Monday). Principal, Dr. M. Nandakumar addressed the students and parents by highlighting infrastructure facilities of our polytechnic college and stressed the students to make use of the facilities and opportunities to excel in their studies and career.
Mr. M. Pugazh, Academic officer spoke on Discipline to be maintained in order to concentrate on studies and introduced the HoD's, I year faculty members and the class teachers to the students and parents. The HoD's highlighted their department facilities and the job opportunities in the field to the gathering.
Mr. S. Balakrishnan, ADO has asked the students to take oath to study well and to bring good name for themselves, parents and to the college. Mr. S. V. Elangovan, Placement Officer proposed vote of thanks. After the meeting, the students and parents were assembled in individual halls, section wise and informed about the staff advisors and details are entered in the student's personal files and further instructions were given.