Arasan Ganesan Polytechnic College, Sivakasi
ISTE Staff Chapter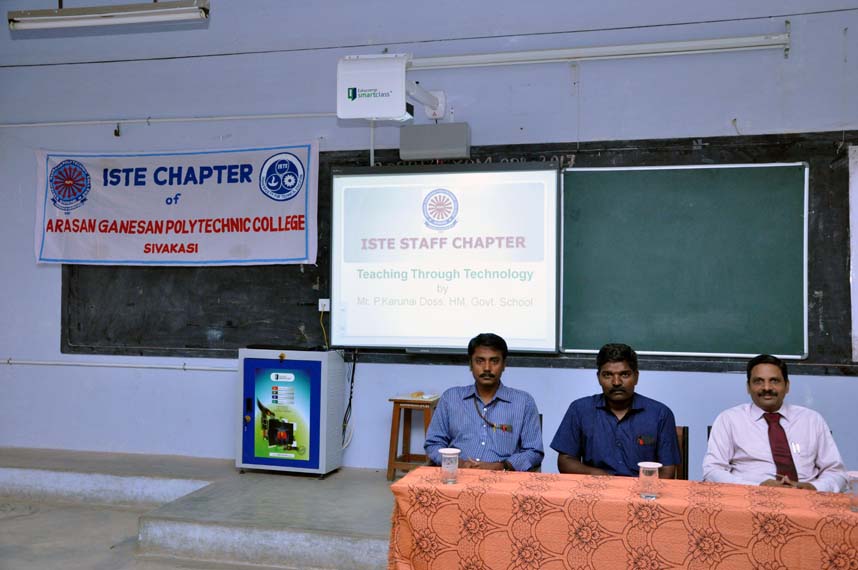 Under ISTE staff chapter a special guest lecture on "Teaching Through Technology" was arranged at Arasan Ganesan Polytechnic College, Sivakasi on 14-07-2017 by ISTE staff chapter for staff members of AGPC, Sivakasi. Mr K.Velmurugan welcomed the gathering. Our Principal, M. Nandakumar Chairman of ISTE in his Presidential address stressed the necessity of education transformation to be adopted in todays educational field. Educational technology is "the study and ethical practice of facilitating learning and improving performance by creating, using, and managing appropriate technological processes and resources". Educational technology is the use of both physical hardware and educational theoretics.
| | |
| --- | --- |
| | |
The chief guest Mr.P.Karunai Dass stated that new technologies are powerful tools to help teachers to meet the needs of ever-more-diverse student populations. The idea is that digital devices, software, and learning platforms offer unimaginable array of options for tailoring education to each individual student's academic strengths, interests, motivations, personal preferences, and optimal pace of learning. Nowadays, we have the Internet in our pocket, in the form of a smart phone, which has exponentially more computing power. You can use ShareIt, Mobizen, Khan Academy, Google Drive, Google forms, you tube as your teaching aids.
Mr. L.Murugesan delivered vote of thanks. Around 30 of our faculty members attended the guest lecture and benefited forever in their life time.