Arasan Ganesan Polytechnic College, Sivakasi
National Service Scheme
Inter-Polytechnic College Level One-day Training Workshop on
DISASTER MANAGEMENT
National Service Scheme, Directorate of Technical Education, Chennai and Arasan Ganesan Polytechnic College, Sivakasi have organized an Inter Polytechnic College Level One-day Training Workshop on," DISASTER MANAGEMENT" on 27-07-2017. Eighty five NSS student volunteers and fifteen Programme Officers from nearby fifteen Polytechnic Colleges attended the programme. The Programme started with Prayer. Mr.R.Rajasekaran, PO-I welcomed the gathering. Dr.M.Nandakumar, Principal, AGPC delivered the presidential address. He appreciated the participants for their interest shown in this workshop.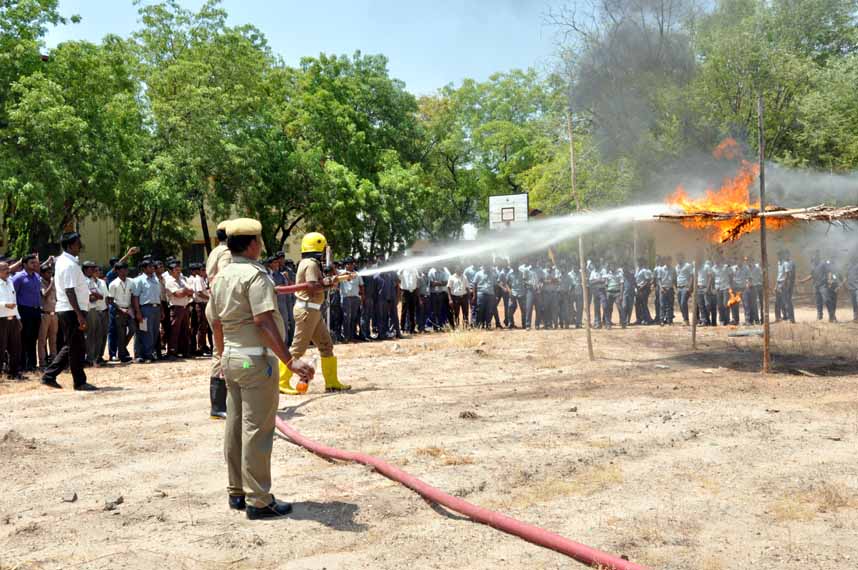 Mr. K.Murugan, Fire Officer, Fire and Rescue Services, Sivakasi handled the first session. On "Fire Safety Demo and Drill" he stated that, 98% of the Fire accidents are due to the human negligence. He described the classification of Fire as Class-A, B, C, D and listed the causes of fire, effects of fire and preventive measures of fire accidents. He gave many tips on Characteristics of fire, important safety elements, Smoke Alarms, Fire sprinkler systems, Fire extinguishers, Fire proof Doors and Emergency call numbers. Fire accidents and method to be adopted in closing fire were demonstrated involving the students in the ground. Four members with big tanker the Rescue team demonstrated the programme.
Mr. K.Velmurugan, Lecturer (Senior Scale)/ Civil Engineering, AGPC handled the second session on the topic," Flood Preparedness". Flood occurs in every country and wherever there is rainfall and coastal hazards. He described about Types of Flood, Ice jams, causes of flood, effects and benefits of flood, prevention of floods etc., Major Structural measures are – Flood Embankments, Dams, Drainage improvement, Channel improvement, Diversion works etc., Non-structural measures are- Flood plain zoning, Flood preparedness, Community level awareness, Flood forecasting and warning system, Afforestation, Public relief, Flood insurance etc.
Ms.A.Anni Bimila Sujitha,M.C.A. Trainer, National Diaster Management Authority, Tamilnadu handled the third session on, " Earthquake Awareness". Disasters are classified as Natural Disaster and Manmade Disaster. Earthquake, Floods, Cyclone and Drought are the major natural disasters. Epidemic, Deforestation, Pollution, War, Accidents are the major manmade disasters. Due to the natural movement, clash or overlapping of fundamental seven tectonic plates causes earthquake. Seismograph measures the force, duration and location. He described the Preparedness, response, Recovery and Mitigation procedures. During construction, by adopting "Heavy Column-Light Beams" reduces damage of structure and human lives. Conventional shape, equal mass distribution, length to breadth ratio less than 2 reduces Earthquake effects.
Dr.A.SelvaRajan, M.B.B.S., Secretary Indian Medical Association, Srivilliputhur handled the fourth session on," First Aid". He explained the first aid procedure for the following: Artificial Respiration of Resuscitation, Bleeding, Bone-broken or dislocated, Burns, Choking, Electric shock, Poisoning, Scolds, Shock, Foreign bodies in the Eye and Emetics. He has demonstrated the first aid procedure and clarified the doubts raised by the NSS volunteers.
During the feedback session, volunteers thanked all the resource persons for their valuable presentation. Participants were benefitted and expressed their gratitude for providing this opportunity. Certificates were distributed to all the participants. Tmt. S.Palaniselvi, PO-III proposed the vote of thanks. Training workshop was concluded with National Anthem.
NSS Programme Officer