Arasan Ganesan Polytechnic College, Sivakasi
Training And Placement Cell - Career Guidance Programme
Soft Skill Training by Mahindra Pride School, Chennai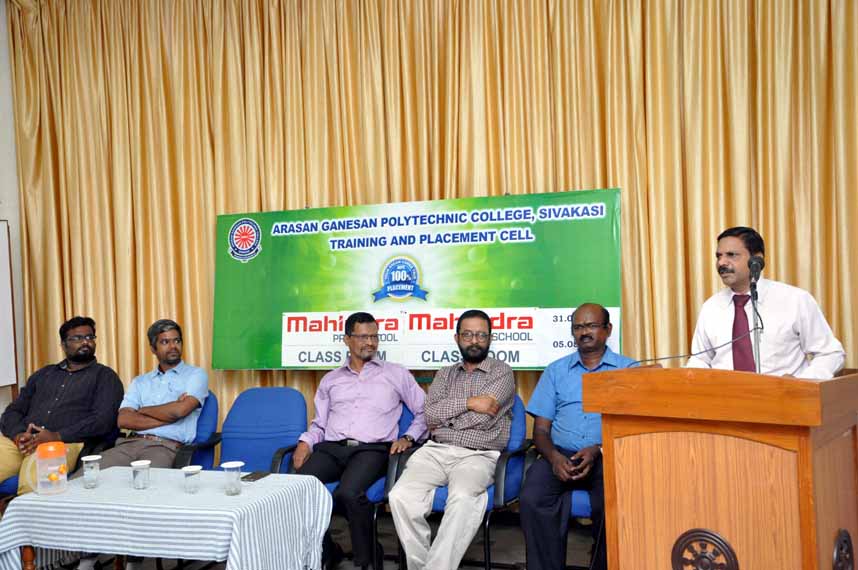 Our Principal Dr.M.Nandakumar delievering the Presidential Address
Six Day Career Guidance Programme was conducted for TWO HUNDRED of our final year students from 31-07-2017 to 05-08-2017 at our college. The aim of the programme is to impart soft skills among the rural students. The entire programme is conducted free of cost by the Mahindra Pride School, Chennai, run by the Naandi trust. Five trainers trained our students. Students were divided into five groups of forty each.
The following trainers have trained our students:
Mr.Khaleelula

Mr.Rajendra Bharati

Mr.Chandrasekar

Mr.Anand

Mr.Purusothaman
The following skills and techniques were imparted to our students:
Communication technique
Personality Development
Time Management
Leadership quality
Extempore
How to be hygienic
Resume preparation
How to be more creative
Money making technique
How to behave during the interview
How and why should we respect our elders
How to perform during a Group Discussion
How to get rid of stage fear
| | |
| --- | --- |
| Our Principal honouring one of the Trainer Mr.Khaleelula | Trainers honouring our Principal |
| Feedback by our student Ms. C.Bala Abirami of Computer Engg. | Vote of thanks by our Placement Officer Mr. S.V.Elangovan |
In the valedictory function, our Principal Dr.M.Nandakumar appreciated the students for their Eagerness in learning. He insisted that they should follow what they have learned and to implement in their day to day activities. Also, Principal insisted that the trained students should impart what they have learned to the untrained students. Thirty students gave their feedback. All of them were equivocal in thanking the trainers for imparting the above mentioned skills in a short span of time. The trainers also gave a very positive feedback about the attitude of our students. They were also pleased by the hospitality shown by our college.
S.V.ELANGOVAN
PLACEMENT OFFICER