Arasan Ganesan Polytechnic College, Sivakasi
Student Services Cell
Guest Lecture on "Photoshop" (10-07-2018)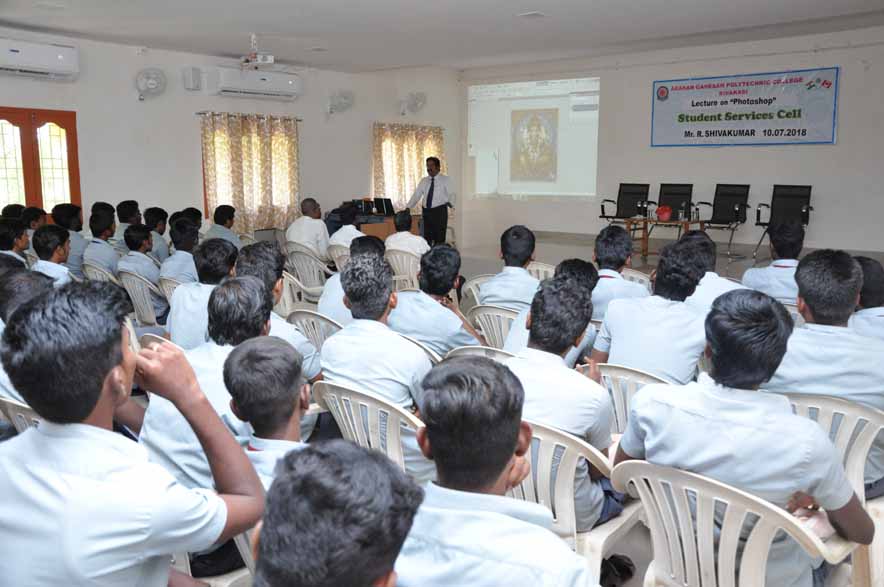 Guest Lecture on "Photoshop" by Mr.Shivakumar for our III Year Printing Technology students
As per the reference by our respected Correspondent and directions from our respected Principal Dr. M. Nandakumar, a one day training programme on "Photoshop" was organized on 10-07-2018 for our diploma in printing technology students. Mr. R. Sivakumar a highly experienced trainer and master in multimedia and graphics was the resource person. Over the last 12 years, Shivakumar has been helping photographers and creative professionals get the most out of their software.He has taught Photoshop in all most every district in Tamilnadu and Karnataka.
Mr. G. Venkateswaran, Lecturer (Sen.Gr.)/Printing Technology welcomed the gathering. Our Principal Dr. M. Nandakumar presided over and inaugurated the training programme. Then Mr. R. Sivakumar taught the various exercises in Photoshop which includes Pencil Art, Creative image, Color Cats Removal, Creating Passport Photos, Text Effects, Paste Into, Color Change, Collage, Photo Merge, Clipping Mask, Bending Objects, Quick Mask, Sharpen Image, Edges, Image Enhancement and Tattoo Image.
To conclude, the training was so engaging and informative to our students. All these complex exercises were demonstrated in very easy simple and minimal steps. During the course of the training our students were also asked to do two of the exercises. In a nutshell the training programme was so effective that our students can learn Photoshop in a very short span of time.