Arasan Ganesan Polytechnic College, Sivakasi
Arasan Ganesan Polytechnic College, Sivakasi has inducted its 36th batch on 04-07-2016 (Monday). On this special occasion, a special parents meeting was organized. College Correspondent Thiru. A.M.S.G.Ashokan chaired the meeting. Principal Thiru. M.Nandakumar delivered the Presidential address. Dr. R.Srinivasan, Assistant Professor, MBA Department of SASTRA University, Tanjore was the Chief Guest. While addressing the gathering, he pointed out that students should be proud of their country. He insisted that the world needs the help of India for its survival. He also insisted that students should utilize all the resources of the college for their development. He motivated that students should aim not only at getting a decent job but also become an entrepreneur. He listed the following 5 important codes to be followed by the students for their improvement, because the world presently needs only good people:-
Respect to their parents.
Respect to teachers.
Respect to elders.
Respect to women.
Respect to our nation.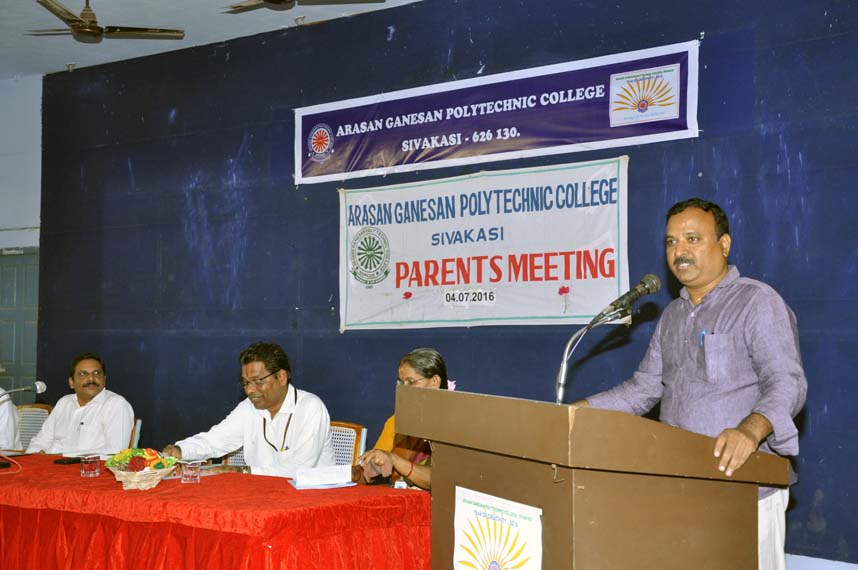 Chief Guest (Dr. R.Srinivasan, Assistant Professor, MBA Department of SASTRA University, Tanjore) addressing the gathering
Earlier Mrs. P.Kalyanasundari, HOD, first year welcomed the gathering. Mr. Raman, Senior Lecturer, Physics proposed vote of thanks.
| | |
| --- | --- |
| Principal honouring the Chief Guest with a shawl | Chief Guest addressing the gathering |
| | |
| A section of the audience | Our Correspondent and the Chief Guest keenly observing the preceedings |
| | |