Arasan Ganesan Polytechnic College, Sivakasi
National Service Scheme
On 20.07.2016, a Guest lecture programme on "Rain Water Harvesting" was conducted. II year and III year Civil Engineering students (100 Nos.) participated. Mr.Maran.G and Mr.Giridharan, Nature supporters are the Guest speakers.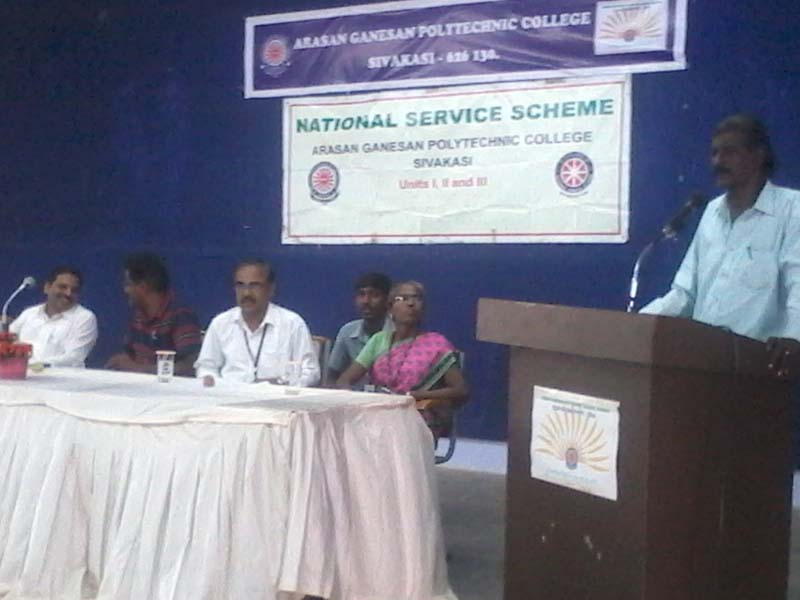 Guest Lecture on "Rain Water Harvesting" by Maran.G on 20/07/2016 at our Campus
Selvan.A.Vimalathithan, Volunteer welcome the gathering. Mr.M.Nandakumar, Principal delivered the presidential address. Mr.Maran.G describes the importance of water for our health and society. Mr.Giridharan, explains the success story of storing rain water in house, and making it fit for drinking water after filtration. The filter bed consists of three layers – sand, 10mm jelly and charcoal. The speaker implemented this project more than 15 houses in Sivakasi. He also suggests Rain water harvesting proposals in our campus also.
Two students gave feedback about the programme. Selvan. S.Nivas prabhu, proposed vote of thanks.