Arasan Ganesan Polytechnic College, Sivakasi
Canada India Institutional Cooperation Project
Student Services Cell
A motivational guest lecture programme was organized by Student Service Cell of Arasan Ganesan Polytechnic College for the final year students on 14.12.2016. Thiru V.R. Muthu, CEO, Idhayam Group of Industries was the guest speaker. Around 250 budding engineers were enlightened by his talk.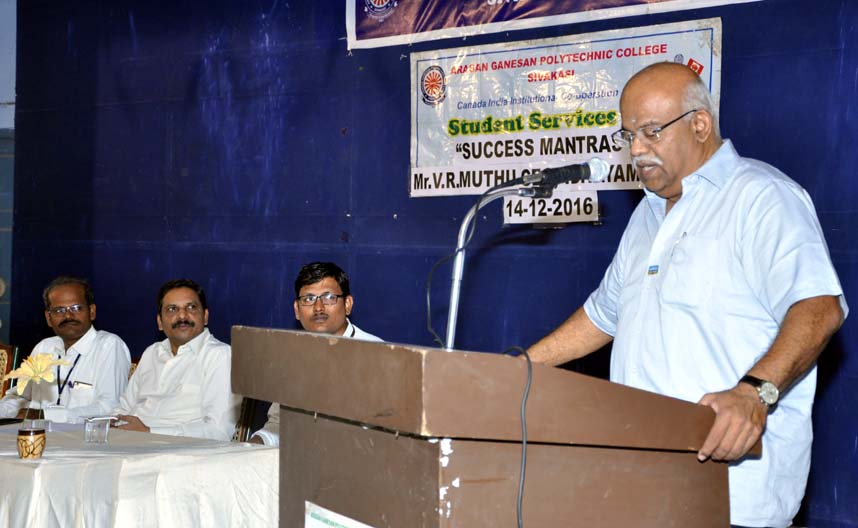 Thiru V.R. Muthu, CEO, Idhayam Group of Industries delivered motivational lecture on "Success Mantras"
Thiru V.R. Muthu started his lecture in a unique way. He started with Bharathiyar Poem "Manathil Uruthi Vendum" and instructed to the students, recite the poem every day morning in order to build self-confidence. He highlighted the fact that the Dr.A.P.J.Abdul Kalam quote "Kannvu Kannugal", through which realization is possible
He quoted many Thirukukural couplets on Non Violence, Effective Communication and life management etc., He also encouraged the students to develop the communication skills and emphasized the importance of planning by stating that "If you fail to plan, you are planning to fail". Think Plan Act (5 + 4 + 3) were the mantras given by him to be successful in career.
He advised the students that they should love their chosen subjects and also must try to learn many things apart from the academic studies. He advised the student to inculcate reading habits and read book and newspaper daily for 4 hours. He narrated many success stories to the students to grab the plenty of opportunities available before them and if not create a new one.
Mr.M.Nandakumar, Principal in his presidential address, emphasized the importance of motivational programmes for our students to become successful and wholeheartedly thanked the guest speaker for his continuous support to our institution and being the source of inspiration for all.
A total of 19 prizes were given to the students to motivate them during the question & answer sessions. The guest speaker also came forward and assured that the students will be honored by special prizes by him.
Mr.M.Pugazh, Academic Officer, welcomed the gathering and Mr.S.Uthanu Mallayan, Manager-Students Service Cell proposed vote of thanks.
Students Services Cell - Manager