Arasan Ganesan Polytechnic College, Sivakasi
ISTE STAFF CHAPTER
Under ISTE staff chapter a series of Guest Lectures on following topics was arranged at Arasan Ganesan Polytechnic College, Sivakasi on 10-01-2017.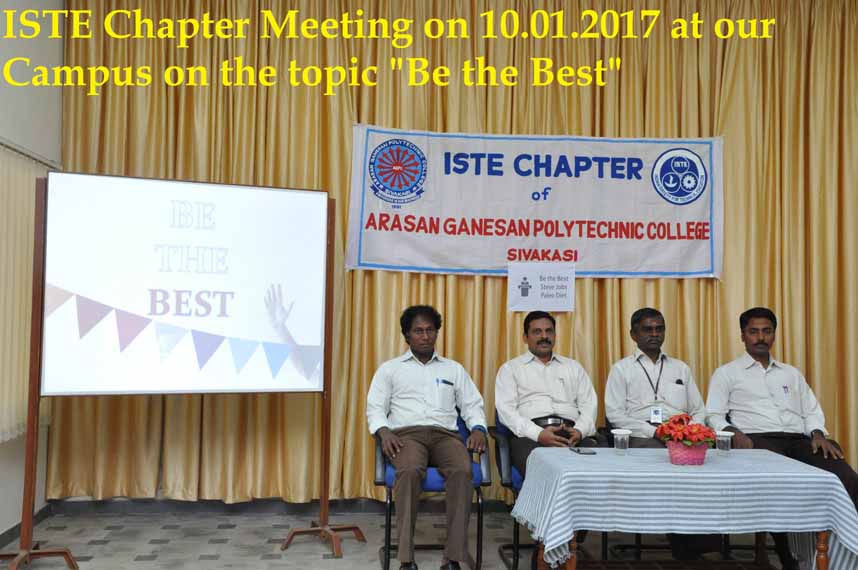 "Be the Best" by Mr. L. M. Murugesan, Instructor/ECE
"Steve Jobs" by Mr. G. Venkateswarn ,Sr. Lecturer/P.Tech
"Paleo Diet" by Mr. N. Sivaraman, Sr. Lecturer/P.Tech
Mr N. Sivaraman ISTE secretary welcomed the gathering. The Principal, M. Nandakumar Chairman of ISTE in his Presidential address stressed the necessity to be the best in all activities of AGPC and importance of health care to support consistent work style. Mr. L. Murugesan explicated some of the best proverb on the theme of our AGPC's "Be the best" and he insisted all the clubs to secure the best award in coming years. Mr. G. Venkateswaran spoke on real leadership lessons that can be learned from the life of "Steve Jobs" the most successful iconic business leader of all time. Our ISTE Secretary Mr. N. Sivaraman spoke about today's hectic world and lifestyle leads to poor health. He scientifically explained how this Paleo Diet can improve your health and overcome all medical issues. Also he explained how to combat diseases and sustain from adulteration & chemicals. Mr. K. Velmurugam has delivered vote of thanks. Around 30 faculty members have attended the guest lecture and benefited forever in their life time.