Arasan Ganesan Polytechnic College, Sivakasi
Canada India Institutional Cooperation Project
Students Services Cell
Students Service Cell conducted a motivational guest lecture on the topic "Adaptive Skill Training Workshop" on 11-02-2017 (Saturday) at DH3 for final year students. The resource persons are Mr.A.S. Antony Raj, Surveyor & Loss Assessor, Sivakasi and Mr.Arun Kumar (ECE 2004 Batch), Aptitude Trainer for Aptitude Skill Training. Twenty Students from each department [Total 120 Nos.] participated in this programme.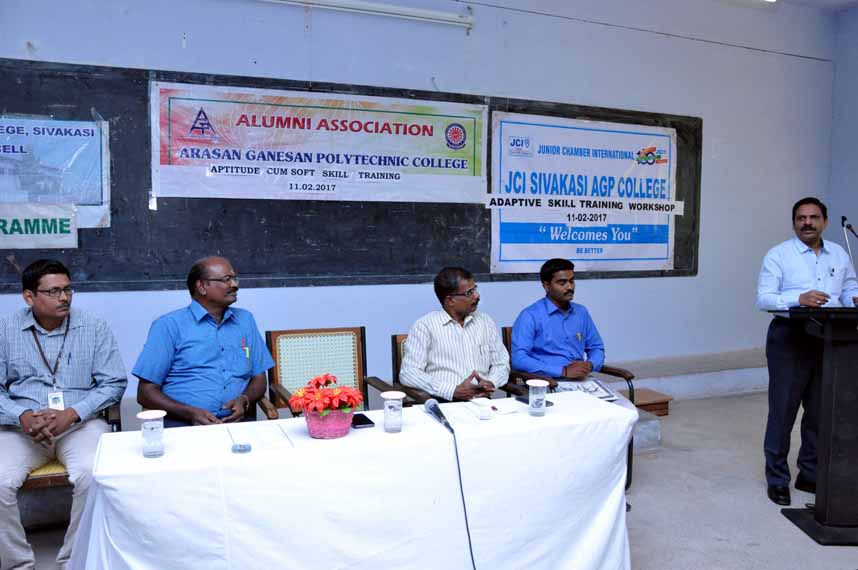 The function started in a grand manner with the welcome address by Thiru.L.Murugesan, Department Coordinator / ECE and the presidential address by our respected Principal Thiru M. Nandakumar. In his speech, he remembered the services and success stories of about our chief guest and importance of adaptive skills for students. Then Mr.A.S. Antony Raj started his lecture and the orientation of the lecture was unique. He narrated the students about adopting to new environment is like changing our day to day activities matching with the new environment.. He highlighted the fact that to help you get a grasp of the company's culture, always listen and be observant at all times. He boosted the confidence among the students that he started his technical studies as a diploma student.
He explained that building rapport with your co-workers is also very important; because it helps you assimilate to their culture faster and learn all you can about your new employer before your first day on the job. The more you know, the more confident you'll feel. After you've started working, arrive early and stay a little later each day so that you have more time to become familiar with your new workplace. Keep your eyes and ears open at work so you can learn as much as possible about company history and day-to-day operations. In fact he said whether you stay at your new job for a few months or several years, cultivating good feelings in the office is always worth the effort. Off the job, introduce yourself to your new neighbors and remember to conduct yourself in a professional manner. Enjoy yourself, but remember that people don't know you yet and will be forming lasting impressions of you based on your actions in the early days of your new job. He advised the students that trying to figure everything out on your own will create feelings of isolation; it can also be counter-productive and a waste of time. Get to know your co-workers by asking questions about work and about the local community.
Mr.Arun Kumar (ECE 2004 Batch), Aptitude Trainer explained some mathematics and aptitude tricks to students. He explained that for Arithmetic understand the basics of percentage, ratios, relationship with percentage and number or ratio and number, Unitary Method, Improve Number Skills, Calculations, Learn basic Formulae and their applications, Each chapter has some basics, learn that very well, Solve different types of questions, Remember types of questions and If possible try to solve questions with given options, eliminate 2-3 options by applying commonsense, logic or basic rules. The programme was organized by Mr.S.Uthanu Mallayan, Manager, Students Services Cell in a nice manner with support of Alumni Association of AGP.