Arasan Ganesan Polytechnic College, Sivakasi
Training & Placement Cell
PLACEMENT DAY – 2017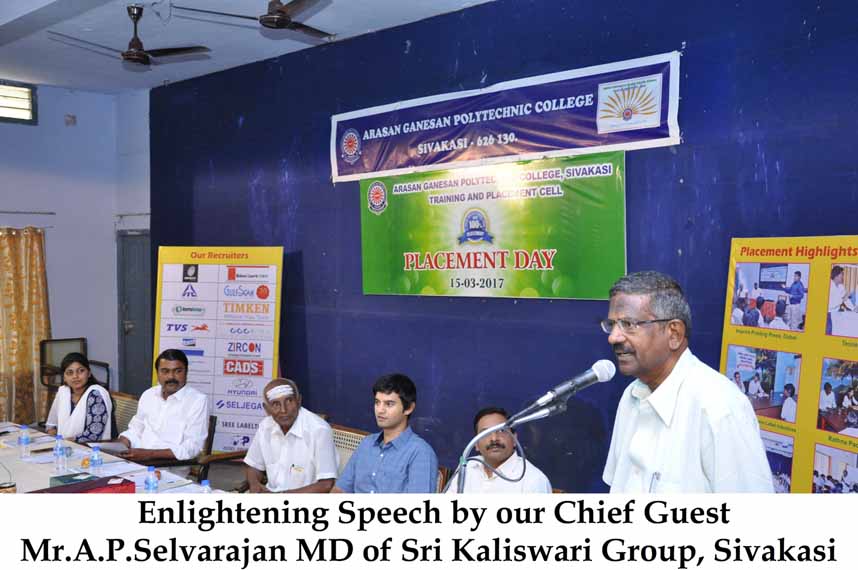 A ship is safe at the shore – but that is NOT what it is built for, said Albert Einstein. Going by his words our college management and the parents took a right step to push the students off the shore from the comfort of being at home and classroom to the entirely new world. This year 40 National and Internationally reputed companies have visited our campus to recruit our students and the process is still going on. Our students have also attended off campus interviews held in various Polytechnic colleges.
In total we have provided 305 job offers to our students. To get placement, book knowledge alone is insufficient. To improve the employability skills and the soft skills of the students, we have conducted Career Guidance Programmes throughout the year with the help of our efficient staff team and with some experts from external agencies. We have also imparted Aptitude skills to our students through our staff members and with an external agency like Innovative Services, Chennai. Diploma Engineers have more opportunities in the Government Sector too. To make the students aware of it, a Government Job Opportunities Club was started. We have conducted 3 programmes starting with Mr.N.M.Perumal, a retired IAS officer, who has also authored several books which will help the students to prepare for the competitive examinations conducted by the State as well as Central governments. We have also provided a separate link in our College website – "Government Job Opportunities" and is being continuously updated. We have also invited Government officials as resource persons to motivate and guide our students. We have also conducted online test for 150 of our final year students through Aspiring Minds, Bengaluru. On behalf of ITC Foods Division, Bengaluru, Merit Trac had conducted an offline test for 71 final year students. 17 of them were selected for the second round. The second round was conducted at Government Polytechnic College, Vijayawada, Andhra Pradesh on 17th and 18th of February 2017. In 2015-2016, Printing Technology students were placed in Balmer Laurie, Dubai with a monthly salary of Rs.45,000/- and for experienced students(our alumni) Rs.60,000/-
In 2016-2017, Selvan.M.Jeevanandam of III year Mechanical is placed with ITC Foods, Bengaluru. He will receive a monthly salary of Rs.37,750/- and his annual income is Rs. Four lakhs fifty thousand rupees. The list of some reputed companies that have visited our campus is given below:
| | | |
| --- | --- | --- |
| Sl.No. | Name of the Company | No. of students recruited |
| 1 | ITC Packaging limited, Chennai | 34 |
| 2 | Eswari Picture Mart, Sivakasi | 09 |
| 3 | Rathna Packaging, Hosur | 11 |
| 4 | Imprint Printing Press, Dubai | 04 |
| 5 | Zircon, Chennai | 06 |
| 6 | Appasamy Groups, Chennai | 33 |
| 7 | Sharon Solutions, Pondicherry | 10 |
| 8 | Rane Group, Pondicherry | 19 |
| 9 | Tenneco Automotive India Ltd, Hosur | 10 |
| 10 | Sree Label Tech, Coimbatore | 09 |
| 11 | Sel Jegat Printers, Sivakasi | 06 |
| 12 | Pattabi Enterprises, Mysuru | 02 |
| 13 | K Soft, Sivakasi | 03 |
| 14 | Sense Connect India (P) Ltd. | 02 |
| 15 | Adroit Soft India Ltd., Chennai | 01 |
We thank our Management, Principal and all the HODs, staff members both teaching and non-teaching especially Placement Co-coordinators of all the Departments for their support that they have rendered throughout the year for the success of our mission.