Arasan Ganesan Polytechnic College, Sivakasi
National Service Scheme
Best Polytechnic College (Second Place)
The ministry of Youth Affairs & Sports, Govt. of India has instituted Special Awards for NSS Units under National Young Leaders Programme (NYLP) wherein the NSS volunteers are encouraged to do additional 100 hrs excluding 120 hrs of Regular Activities in Shramdhan activities.
The objective of NYLP is to channelize the Youth energy towards Nation building activities. These voluntary activities will Indeed help NSS volunteers to develop their personality and leadership qualities and promote the spirit of dignity of labour.
The Ministry of Youth Affairs & sports has enlisted the activities in order to devote additional hours of voluntary Manual Labour by the NSS unit. The NSS Unit under the Shramdhan programme can take up activities which are useful to the Local Area / Adopted Village / Slum or Community.
In this regard, they requested to give wide publicity to NSS units and encourage NSS volunteers and programme officers to undertake additional 100 hrs of any of the above mentioned Shramdhan activities at their adopted village and other places which benefit the Local Area / Adopted village and the events undertaken may be documented well and apply for the Award. This BDA (Before, During and After) format of documentation of the activities is essential for consideration of award.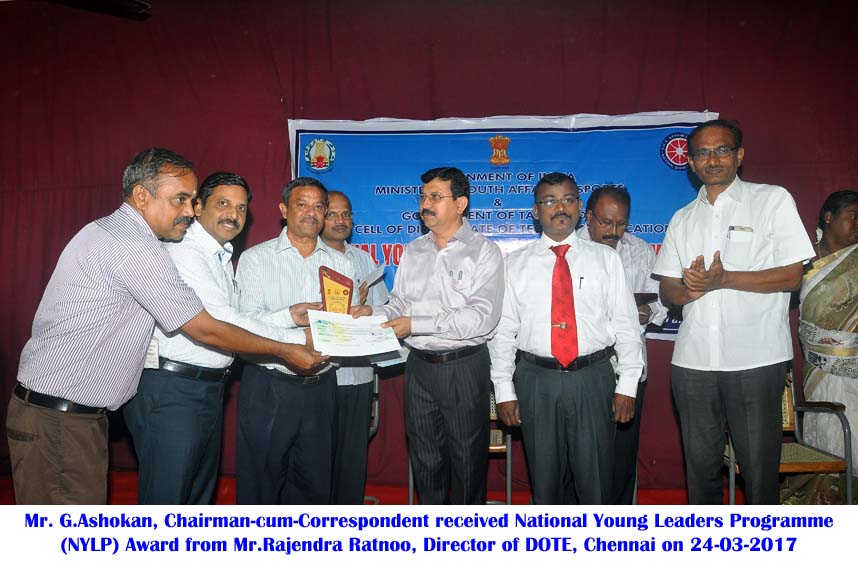 In this connection, we have prepared and submitted the Special Awards for NSS Units under National Young Leaders Programme (NYLP) for 2015 – 2016. Our polytechnic college has been adjudged as the BEST POLYTECHNIC COLLEGE (Second Place) with the Cash Prize of Rs.40,000/- in the NYLP for the 2015 – 2016, by the selection committee for the Directorate level NYLP Award. Mr.G.Ashokan, Chairman-cum-Correspondent, Mr. M.Nanda Kumar, Principal and Mr. R.Rajasekaran, NSS PO received National Young Leaders Programme (NYLP) Award from Thiru.Rajendra Ratnoo, Director,Directorate Of Technical Education, Chennai on 24/03/2017 at Nallalaghu Nadar Polytechnic College, Pulazh, Chennai.